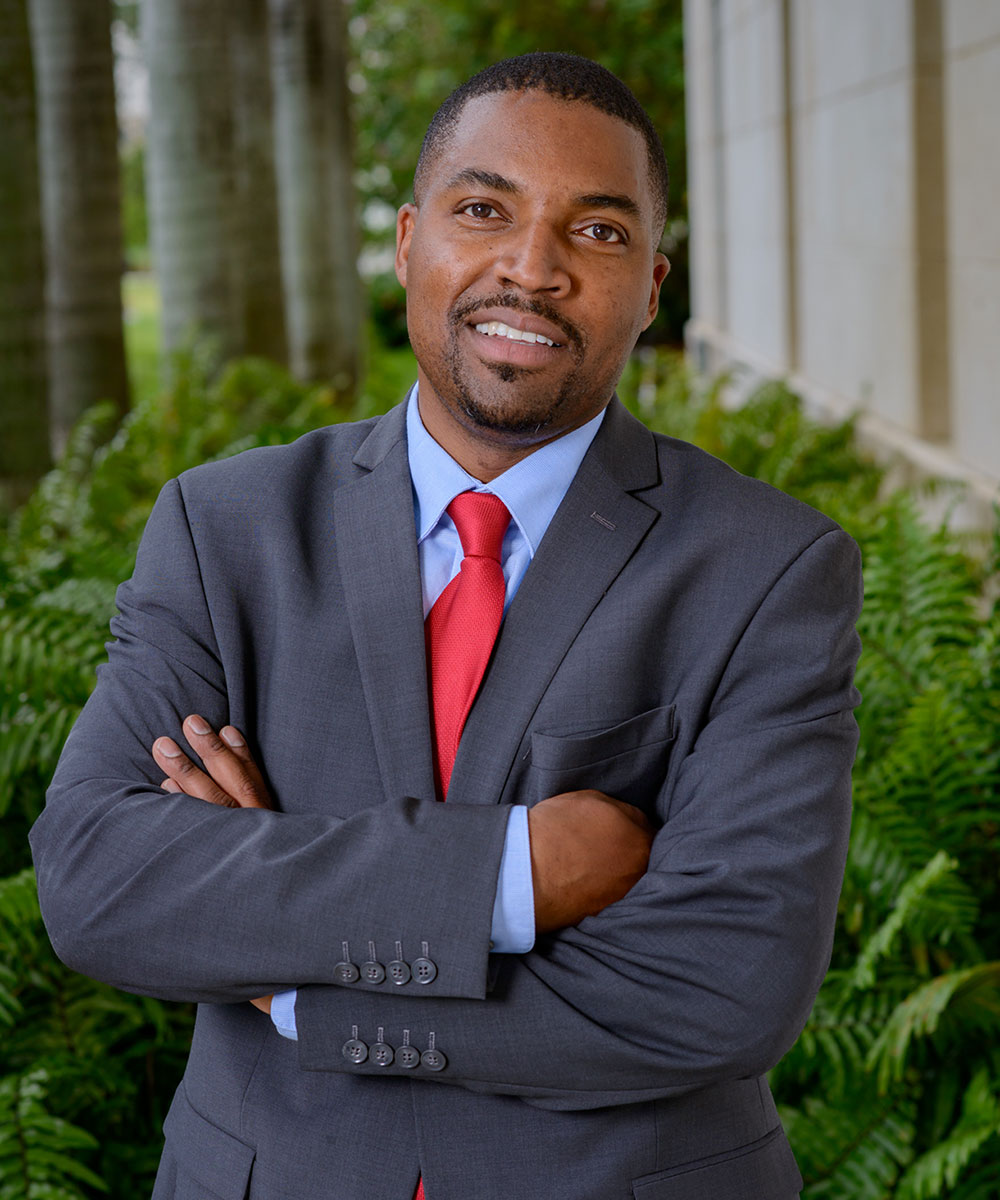 Founder- Dr. Charles C. Jalloh 
Dr. Charles C. Jalloh is Professor of Law at Florida International University (FIU) in Miami, USA, a member of the United Nations International Law Commission and the Founding President of the Center for International Law and Policy in Africa (CILPA). Professor Jalloh was selected for the FIU Top Scholar Award in 2015, the FIU Senate Faculty Award for Excellence in Research in 2018 and the Fulbright Lund University Distinguished Chair in Public International Law for the 2018-2019 academic year.
A prolific scholar,  who is also Founding Editor-in-Chief of the African Journal of Legal Studies and the African Journal of International Criminal Justice, he has published widely on issues of international law including several books: The Sierra Leone Special Court and Its Legacy: The Impact for Africa and International Criminal Law (Cambridge, 2014 hardback, 2015 paperback); Shielding Humanity: Essays in International Law in Honour of Judge Abdul G. Koroma, (Brill, 2015, with Femi Elias); Promoting Accountability Under International Law for Gross Violations in Africa: Essays in Honor of Prosecutor Hassan Jallow (Brill, 2015, with Alhagi Marong); and four volumes of the first comprehensive Law Reports of the Special Court for Sierra Leone (Brill, 2012, 2014, 2015, 2020, with Simon Meisenberg). His recent works include The International Criminal Court in an Effective Global Justice System (Elgar, 2016, with Linda Carter and Mark Ellis); The International Criminal Court and Africa (Oxford University Press, 2017, with Ilias Bantekas) and The African Court of Justice and Human and Peoples' Rights in Context: Development and Challenges (Cambridge, 2019, with Kamari Clarke and Vincent Nmehielle). His monograph, The Legal Legacy of the Sierra Leone Tribunal, was published by Cambridge University Press in July 2020.
Called to the Bar in 2004, he has advised governments and international organizations on issues of domestic and international law and appeared in proceedings before international tribunals. His experience includes as counsel in the Department of Justice Canada, the Department of Foreign Affairs and International Trade, an associate legal officer in the International Criminal Tribunal for Rwanda, a legal adviser in the Special Court for Sierra Leone where he was duty counsel and head of the public defender's office in The Hague trial of former Liberian President Charles Taylor, and as a visiting professional, in the International Criminal Court (ICC).
In 2015 and 2018, Professor Jalloh appeared as External Counsel representing the African Union before the Appeals Chamber of the ICC in The Hague in two separate proceedings involving two African heads of state. He has given numerous invited lectures including at Oxford, Yale and Penn law schools, the U.S. State Department, the UN General Assembly, the Assembly of States Parties of the ICC and the International Criminal Tribunal for Rwanda. Between 2012-2014, he co-chaired the International Criminal Law Interest Group of the American Society of International Law. For several years, he was member of the Advisory Panel to the President of the International Criminal Tribunal for the Former Yugoslavia and the Advisory Board of the War Crimes Committee of the International Bar Association.
He formerly chaired the Panel of Experts assisting the Committee on the Election of the Prosecutor established by the ICC Assembly of States Parties and has also worked as an Independent Legal Expert for the Legal Affairs Directorate of the African Union Commission as well as the Founding Director of the African Court Research Initiative.
His education includes a Bachelor of Arts from the University of Guelph, Bachelor of Laws and Bachelor of Civil Law degrees from McGill University, and a Master's in International Human Rights Law, with distinction, from Oxford University, where he was a Chevening Scholar. He holds a Doctor of Philosophy (Ph.D.) specializing in International Law from the University of Amsterdam.
Project Coordinator- Clea Strydom
Besides acting as CILPA's Project Coordinator, Clea Strydom facilitates a number of projects including the Network for Young Scholars and Practitioners within the South African Branch of the International Law Association, which she established, as well as being the Honorary Secretary of the branch. She also acts as the vice-chair of events for the American Society of International Law's New Professionals Interest Group.
After obtaining a B.A. Law Degree (2014) and a LL.B (2016) from Stellenbosch University, South Africa,  and practicing as a candidate attorney in Cape Town for a year, Clea completed a LL.M (Cum Laude) in International Public Law South Africa by dissertation titled Weapon Systems with Autonomous Functions and the Meaningful Human Control Standard: Going too far or not far enough? at the University of Johannesburg, South Africa.
Her publications include Stigmatisation as a Road to Denuclearisation—The Stigmatising Effect of the TPNW in Nuclear Non-Proliferation in International Law – Volume VI (Prof. Jonathan L. Black-Branch, Dieter Fleck (eds), published by T.M.C. Asser Press); The Importance of Language: Autonomous Weapon Systems vs Weapon Systems With Autonomous Functions on Timely Tech (the online companion to the Journal of Law, Technology & Policy at the University of Illinois, College of Law); and Weapon System with Autonomous Functions and the Martens Clause: Are the use of these weapons in line with the principles of humanity and the dictates of public conscience? on Jus Cogens:  the International Law Podcast.
Program Officer- Mr. Alhassan Kargbo
Mr. Alhassan Kargbo was the  program officer at the Center for International Law and Policy in Africa (CILPA). He has extensive experience in coalition building, anti-corruption, rule of law, human rights, public relations, and legal research.
Kargbo acquired extensive public service experience working for the Anti-Corruption Commission of Sierra Leone in several capacities: Director, Public Education and Outreach Department; Deputy Director, Prevention Department; Legal Officer; Intelligence Chief; Outreach Head; and Public Relations Officer; Anti-Corruption Commission.
Alhassan has also worked for the United Nations, Sierra Leone, as National Program Officer in charge of the extractives. He also lectured International Relations at the University of Sierra Leone.
He holds a Bachelor of Arts; Bachelor of Laws (Hons); Senior Chevening Fellow, York; and a Master of Arts in Anti-Corruption Studies (cum laude), Austria.
Legal Researcher- Ms. Ashira Vantrees
Ms. Ashira Vantrees was a legal researcher at the Center for International Law and Policy in Africa (CILPA). She has experience researching a wide variety of issues including labor law, human rights, criminal justice reform, international criminal law, women's rights, and disability rights. Ashira also served as an International Law Commission Fellow during the International Law Commission's 71st Session (2019). 
Ashira holds a Bachelor of Arts from Ohio Christian University, and a Masters of Science in Disaster Medicine and Management from Thomas Jefferson University, and a Juris Doctor candidate at Florida International University College of Law.